How do I know when I am ready to move my fulfillment out of my house?
When you are ready to park your car in your garage. It usually happens at the height of winter.
Do you have any minimums?
Unlike some warehouses, we don't require you to have a certain number of orders per week/month. Our only "minimum" is that you pay your bill. At minimum.
What do you have in your warehouse that I may need?
Forklifts, pallet jacks, loading docks, drive-up docks, shipping knowledge, boxes (lots of boxes), daily pickups from FedEx, UPS, USPS, freight preparation, a phone, some pens and a few scraps of paper.
What is your onboarding process like?
It's pretty boring. An expensive meal (your treat), we'll take some notes on a napkin, and then we will reveal our address so you can have things shipped within 48 hours. There is a small agreement, but it's an easy month-to-month contract that the "adults" are making us use.
Can I store stuff there that I don't want my husband/wife to know about?
Yes. It's expensive though.
Can I drive your forklift?
No.
Can I come in anytime and look at my stuff? Just stand there and look at it?
Sure! We love having customers at the warehouse. We are open from 6 am to 4 pm Monday through Friday. With some advanced notice, we won't ignore you when you arrive.
Are you hiring?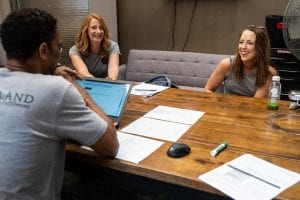 Not currently. But you can send a resume to picnictable@graylanddistribution.com (we do most of our hiring and firing on the picnic table) and we will keep it on file. All it takes to work for us is self-awareness and a desire to work on your weaknesses. (If you don't know what those are, don't worry – we'll point them out.)